Babies Breath - Bristol Fairy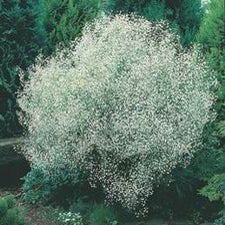 Babies Breath - Bristol Fairy
Seed Details
These plants will produce a mound of airy cloud-like,pure white blooms. Do not divide this perennial. It resent division or being moved because of its extremely deep taproot. If it becomes necessary to relocate your Babies Breath, be sure you only attempt this in its dormant season. Seasoned gardeners have been known to propagate from cuttings in Spring but starting again from seed or seedling is the surest way to multiply your stock.
Instructions
Sow 2 mm deep. Germination is 7 to 21 days. Transplant when second set of true leaves appear. Plant in full sun and shelter from strong winds. Cut back after flowering to encourage second flush.
Fulfilled within 48-72 hours
In stock, ready to ship

Inventory on the way
Great Cutflower
Deer Resistant
Drought Tolerant
Attracts Butterflies
| | |
| --- | --- |
| Seed #: | 36 |
| Variety: | Bristol Fairy |
| Colour: | White |
| Temperature (C): | 16 - 22 |
| Zone: | 3+ |
| Blooms: | July to August |
| Site: | Full Sun or Part Shade |
| Quantity: | 75 |
| Height (cm): | 80 - 90 |
| Spread (cm): | 60 - 70 |
Gypsophila paniculata requires free draining soil in a warm sunny location. If the soil is not free draining the plant will drown or the roots will rot in climates where rain is abundant in winter. Gypsophilia tolerates poor dry soil,but prefers moderately fertile soil. Its drought resistance makes it perfect addition for rock gardens and any well drained area.
This herbaceous perennial was introduced in the late 1800's from Eurasia and is still very desirable for it's deer resistance, ornamental features and fresh and dried floral arrangements. It is an extremely hardy perennial with a taproot that can grow up to 12 feet.